This course is designed for beginner to intermediate bird owners to help us all make wonderful environments for our companion parrots. This isn't a course on how to train a bird...this is how to take great care of your bird so he/she is happier and healthier in the home.
Every bird deserves the best care we can offer, so this course dives into:
the right foods - and supplemental treats you can make for the budgie and parrotlet to the Amazon to the big ol' hyacinth macaw
the right housing - and play areas for birds of all sizes
the right type of vet care - and basic health concepts we need to know (remember: birds HIDE signs of illness!)
the right kind of play
the right kind of interaction
plus bonus materials you can download and use right away
plus an exclusive facebook support group just for students of this course for extra information and guidance outside of the course

plus quick-n-easy quizzes to "test" what you're learning - reinforcing your new knowledge as you go
Think about it. Do you know the key to keeping a Timneh African grey parrot occupied enough to prevent feather-plucking as she grows up? Do you know the pros and cons to allowing her "shoulder time?"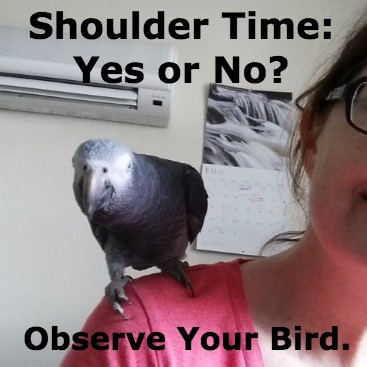 Do you know which foods have the best beta-carotene content for parrots, or even why that's important for your bird? We've got a lesson that discusses that.
Do you know why it's a great idea to have a sleep cage for your bird? We've got a lesson that chats about that.
Do you know that because of his 56-inch digestive tract, the Eclectus parrot needs lots of fiber, but not lots of vitamin supplements, in his diet? Let's explore these husbandry items and more through videos, pictures, quick articles, bullet-point lists, and all forms of guidance in the course.
Once you purchase this online course, it's yours forever, so you can check back on any items that you forget. And you'll get notices by email when we make an update...and that update is free to you in the future, too! It's all good info from here on out to help you provide all the best for your feathered friend!